Let's Rap With Cap!
Can't buy a decent 1/12 Cap figure? We decided to make our own!
All the Owlhoots here at the Flying Batmobile Ranch were displaying the red, white, and blue in celebration of the American Independence Day. Who better to carry that flag than Captain America himself in a Big 5 list of the very best of the First Avenger?
5. Digital Cap:
Several years ago, MARVEL experimented with digital comics by SCANNING EVERY ISSUE OF CAPTAIN AMERICA into .pdf file format. You get it all- the interior cover pages, ads, letter pages- from his very first MARVEL solo appearance in TALES OF SUSPENSE #58 to his assassination in CAPTAIN AMERICA vol 5 #25.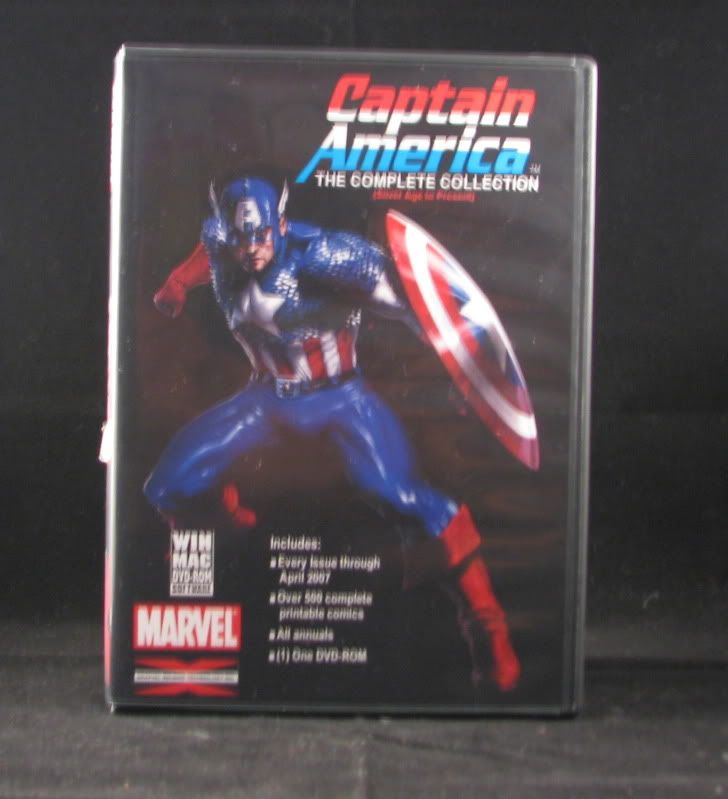 It's this or 1,000 lbs of comicbooks
Plus Annuals.
Face Front, True Believer, you want this: Fifty years of comic books on one CD.
4. The Aurora Model Company meets The Terry Beatty Experience: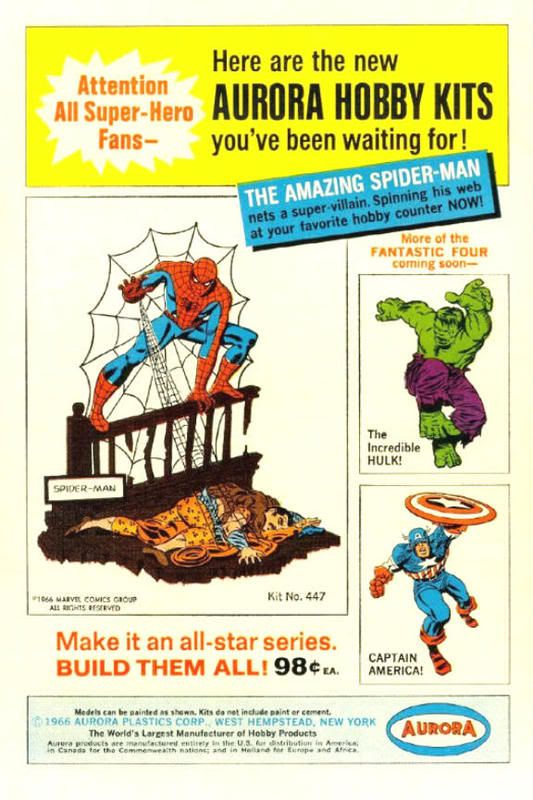 Aurora ad (1967)
In 1966, capitalizing on marketing the resurgence in popularity of comicbook superheroes, MARVEL joined forces with plastic model kit maker AURORA to release kits based on three of their titles: SPIDER-MAN, THE INCREDIBLE HULK, and CAPTAIN AMERICA. A fourth kit based on the FANTASTIC FOUR was designed but never released.
For the price of $0.98 you could slather model airplane cement and hobby paint all over a faithful reproduction of your favorite MARVEL hero.
Aurora model from the collection of JB Weeks
The Captain America model faithfully depicted Cap jumping over a bombed-out wall and into a muddy war zone. While many of the AURORA comic models maintained production for decades, the CAPTAIN AMERICA kit is rather scare, making it a collector's item in the hobby market.
POLAR LIGHTS, a hobby/retro-toy company, bought the license for the Aurora MARVEL models. Each kit was re-mastered into a larger size, now in scale with the AURORA DC COMICS models, plus "improvements" of the original kits. For CAPTAIN AMERICA, the original head sculpt would be featured alongside two new options. Unfortunately, neither the original model nor the new options looked like Jack Kirby's classic comic art.
C
omic artist TERRY BEATTY solved this problem with a limited release of a head sculpt based on his interpretation of "King" Kirby's artwork. The faithfulness to the original art is impressive and significantly improves the model. Thank you Terry!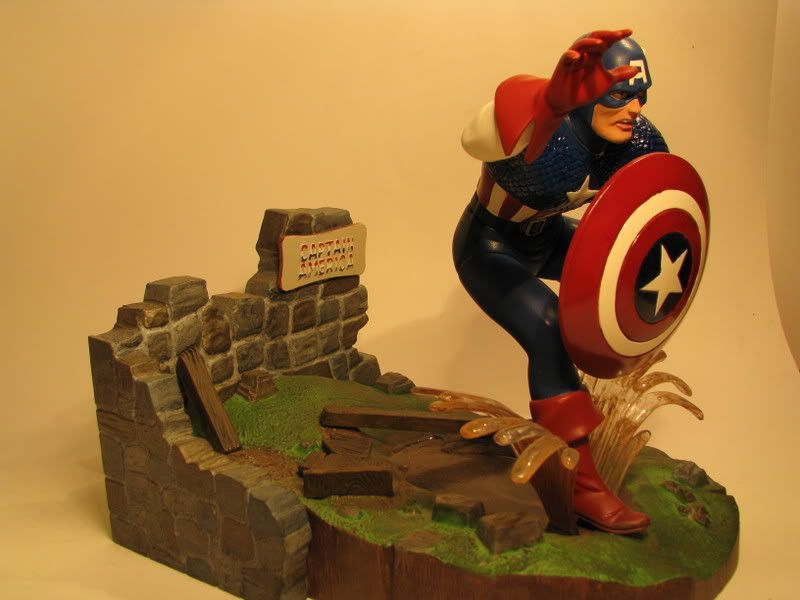 The Polar Lights kit included a name plate!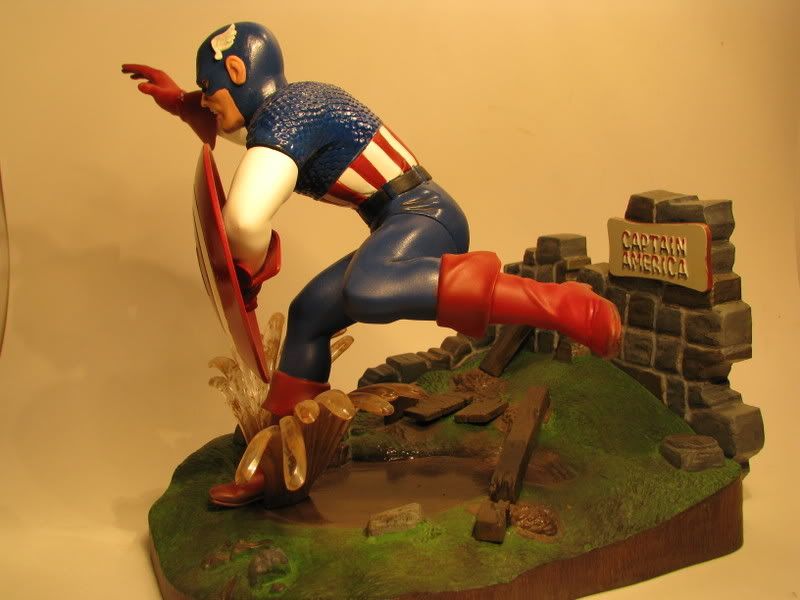 Plus a giant "splash" effect made of clear plastic!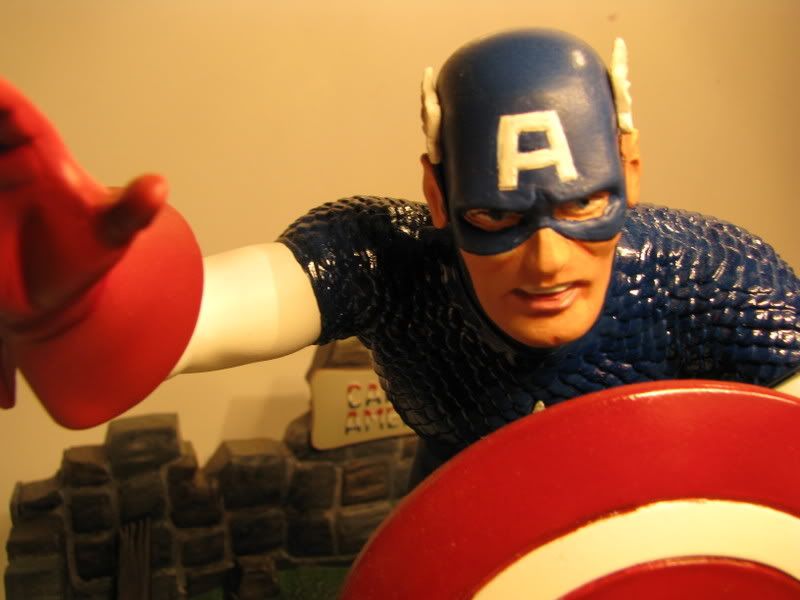 Terry's work makes this kit. Hear that, MARVEL?
3. The Mini Marvel Marching Society!
There are a lot of Captain America action figures, but Diamond Toys and Art Asylum Studios created a monster of an industry with the Mini Mate action figure. Tiny box-like figures with paint and applications of a multitude of MARVEL heroes, the Mini-Mates are insanely popular. In order to keep enthusiasm for the line going, they often release variants of the big characters and Old Winghead is no exception:

(From L to R): First Issue Cap, WWII Cap, Beat-up Cap(?) with Mark Waid laser shield, Modern Cap with switchblade and heater, WWII Ultimates Cap, I'm-sleeping-with-the-Wasp Ultimates Cap, Bondage Cinema Cap
Plus, scores of faithfully recreated colleagues of Cap have been made, including his war-time allies and his modern day associates.
I'm still waiting on The Falcon...
2. Seventies Statues!
Again, there have been many Captain America toys, but this one takes the cake, for no small part because of the mystery.
The Mysterious Marvel Figures (Ideal, 1967)
The lads here at Flying Batmobile are pretty sure these statues were first released in 1967, at the height of Marvel pop fandom. We *think* they were made by IDEAL, in a variety of solid colours. We *guess* they were re-released in the seventies (and maybe eighties)? We have no idea how they were ever packaged or sold.
We just know they are the most badass MARVEL toys ever made. Spider-man is complete with Ditko web-pits and eyeballs and each sculpt is surprisingly accurate to the Kirby/ Ditko artwork of the times. Paint doesn't want to adhere to the oily plastic, but darn it all- we made it happen!
No true MARVEL collection is complete without a set of these.
1.
The Timely Trio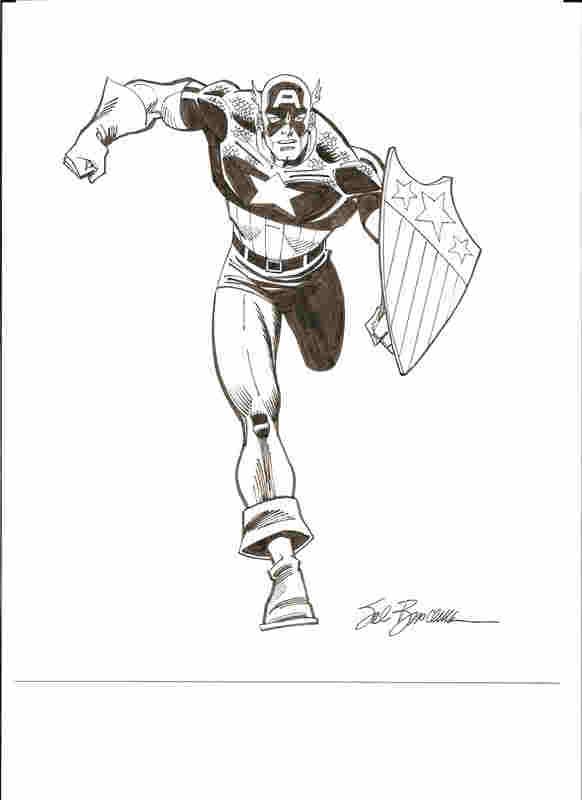 Sal Buscema (WWII Captain America)
To their credit, DC Comics and National Comics (who eventually folded into one giant DC Comics) had a ton of great characters: Superman, Batman, Flash, Green Lantern, Wonder Woman, Sandman, Hawkman, Dr. Fate, Green Arrow, Spectre, Aquaman .... They sold a ton of comics.
In contrast, Timely had three characters. And outsold LIFE magazine.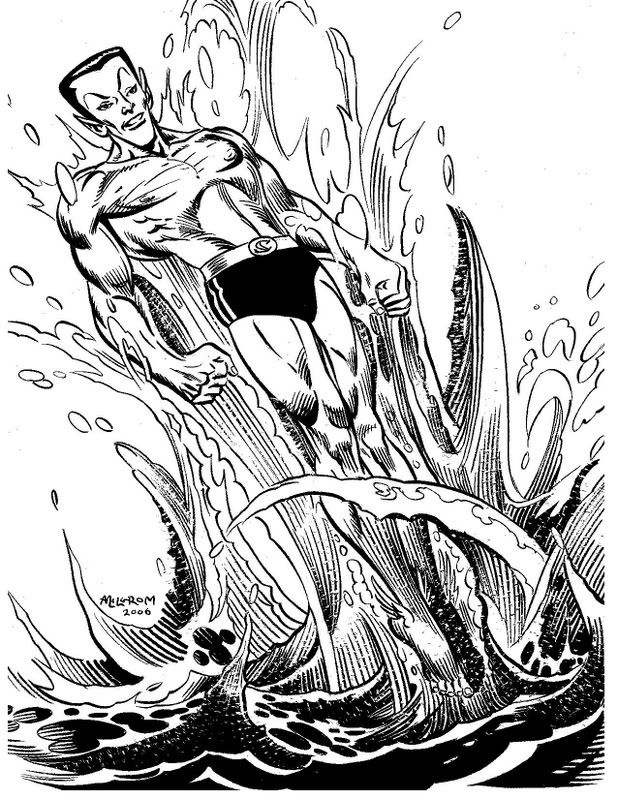 Al Milgrom (Namor)
Three personalities that wrote themselves: Prince Namor had a bipolar love/hate with the surface world, illustrated with elegant fervor by Bill Everett. Carl Burgos' Human Torch was anything but, an android of an adult man with the innocence of a boy and a sense of fiery justice to match his namesake. And the biggest patriotic symbol ever to be put to four-color paper: Simon and Kirby's Captain America.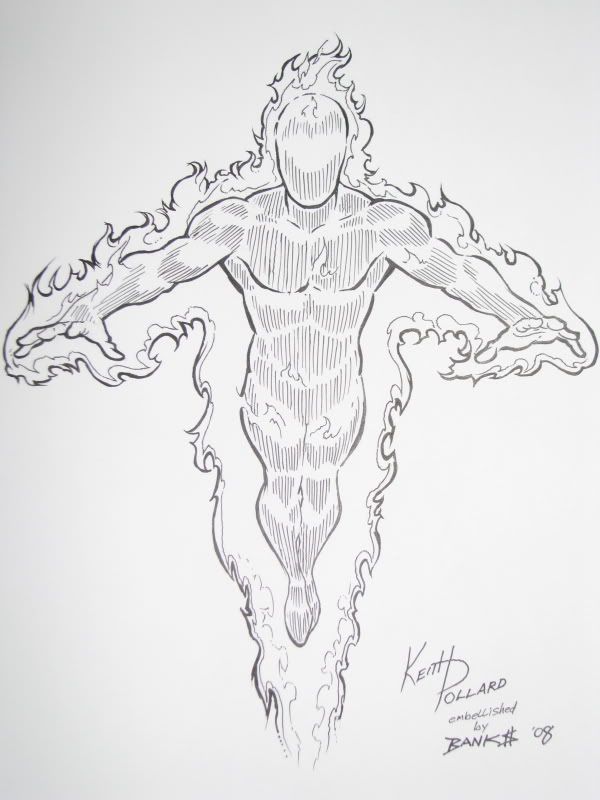 Keith Pollard & Daryl Banks (Torch)
Unlike their Distinguished Competition, TIMELY heroes took on real villains. The Torch melted Japanese Zeroes in mid flight, Namor sank Nazi U-boats, and Captain America punched Chancellor Hitler square in the mouth on the cover of his first issue.
All of this before America had entered the War.
Captain America survived in no small part because he was one of three big fish well positioned in a modest pond. The only "patriotic" WWII-era hero to not only survive eighty years, but star in two publications and lead the World's Mightiest Heroes.