All the boys here at the Flying B Ranch sure do love that Grant Morrison's BATMAN INC. This holiday season, everyone gathered round for a reading of his latest chapter BATMAN INC LEVIATHAN STRIKES! On the top of everyone's toy wish list?
More BATMAN, INC. figures.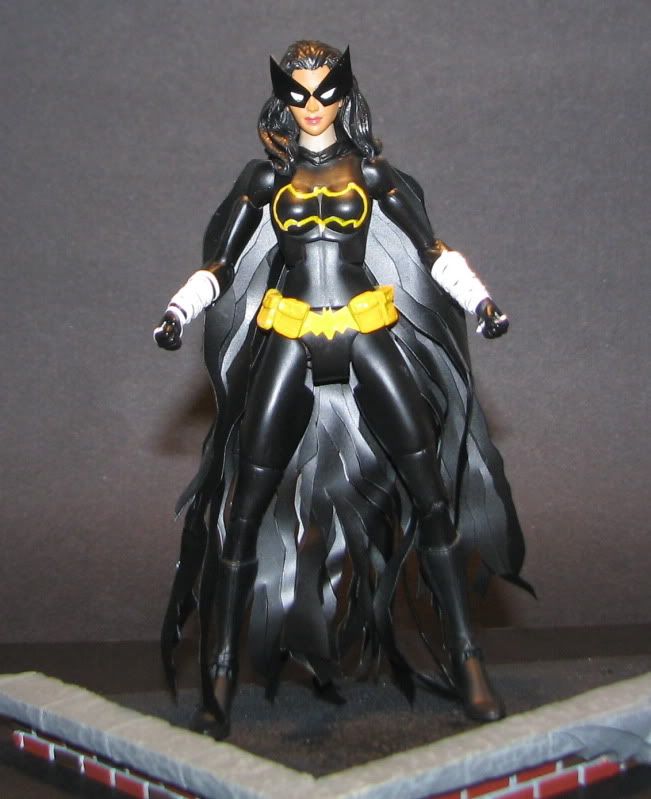 Black Bat is the Hong Kong representative of Batman, Inc. Cassandra Cain was the third Batgirl and was trained as a ninja assassin. Her all-black costume had a distinctive bat-outline symbol. Artist Chris Burnham kept the majority of the costume, added a smaller mask, hand wraps, and had a tattered cape that he wanted to invoke "smoke ... a cross between Ragman and Spawn's cape".
Black Bat has made a few appearances in the recent Bat-Universe and most artists are giving her a full gold batsymbol on her chest. I think Burnham's choice is much more evocative of her original costume and less generic. We had a fun time shredding vinyl to create the tattered cape.
"Black Bat" was a pulp character that was published contemporaneously with Bat-Man and there was litigation pending, if not for the efforts of Bat-Man editor Whitney Ellsworth. Following the circular metaphors of Morrison's story, the name has now come full circle to DC COMICS.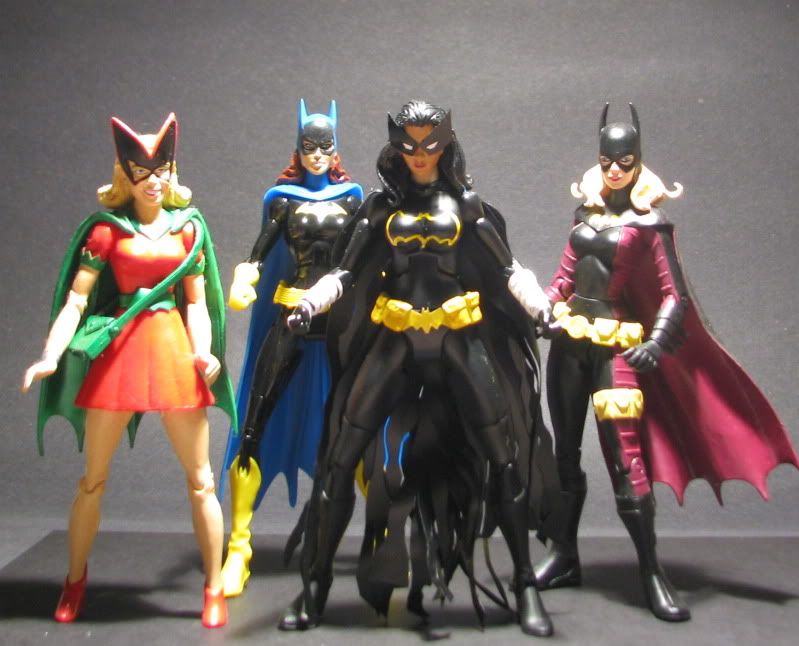 DC has had four batgirls over a period of sixty years. With their recent character shuffling, the newest, Batgirl IV may have been lost to posterity. Thankfully, she makes a brilliant appearance in this most recent chapter of BATMAN INC, fighting off a ninja all-girl death squad school, led by Madonna, Lady Gaga, Rihanna, and Katy Perry.
Bottom line, we need more BATMAN, INC. comicbooks and more BATMAN, INC. figures. Pronto, Hoss!
WILL DC Comics publish the end of BATMAN, INC?
WHICH member of BATMAN, INC will we make next?
CAN Mattel beat us to the punch?
Tune in next month,
Same Bat time,
Same Bat Blog!