One of the more entertaining new comics from DC Entertainment has been THE SHADE, a cool jazz 12-issue limited series about a morally ambiguous character taking stock of his centuries-long life and getting into troubles along the way.
The Shade in 1942
Originally published in FLASH COMICS #33 (1942), The Shade was a villain who enjoyed testing The Flash and was later featured as a member of some nefarious Society of Injustice during the Sixties and other iconic appearances. His costume was a jet-black unitard with some sort of ... shaw (?), a black head mask (?), a top hat, and sunglasses. His ability to create objects and shapes from a black force were supposedly due to the unearthly nature of his walking cane.
Yup. That's what we're working with. That outfit and that backstory. Can you believe that DC actually made an action figure from that?
Thankfully, in the early Nineties, writer James Robinson had restored interest with The Shade in his magnum opus STARMAN, and the character's story continues in this new tale. His backstory became drastically more interesting- he was the product of some Victorian-era demonic experiment which imbued him with an ability to tap into a black other-dimensional well of power and gave him immortality. Over the years, that immortality developed a streak of ennui that lead him to "play with" the super-heroes of the Golden Age, more for sport than malice. His character appearance in the STARMAN series charts his development from self-centered rogue to a man with a developing appreciation of other people, and almost *almost* of sense of heroism.
Missing Page from THE SHADE
Can you name the three heroes?
Dr Fate team up from SHOWCASE 1996
His wardrobe improved drastically, too.
The Shade by Andy Lee
With MATTEL's release of THREE different Starman figures ("Starmen?") in their DC Universe Classics line, we decided it was time to add this fantastic character to the fold, using his modern appearances as a style guide.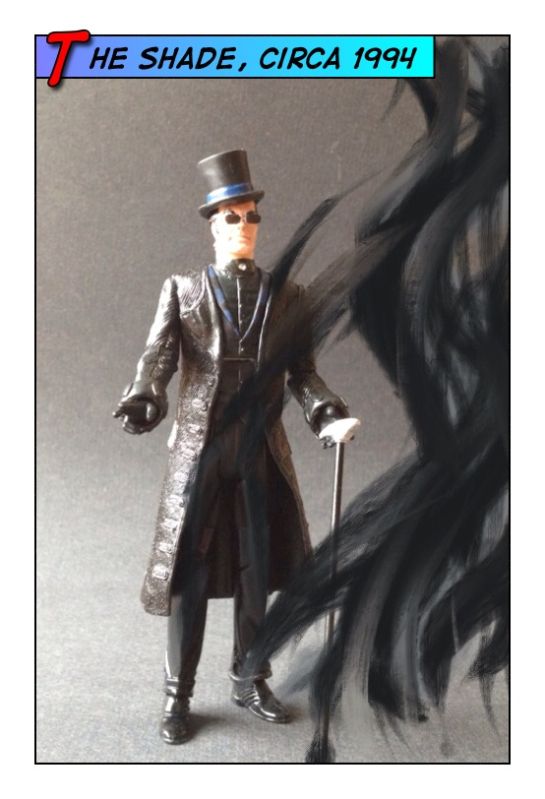 Our figure, based on a sketch by Chris Samnee
As our base, we used the MATTEL Gentleman Ghost, for a slender suited body. His trench coat came from a PIRATES OF THE CARIBBEAN Captain Barbosa figure. His arms and cane were donated from a WILLY WONKA figure. The head is from DC Direct's Uncle Sam and the hat is from MATTEL's Zatanna. That's a lot of figures! The upside of such patchwork is that there was very little sculpting to do, aside from giving him a shave and creating a new collar for him. His coat cuffs were sculpted and craft beads were used to make the distinctive buttons.
Color-wise, it seemed just so sad to paint him all
black
. His shirt and gloves are NATO Black (slightly more grey), his shoes are Gloss Black and his shirt and pants are Matte Black. His coat was painted with a Chaos Black acrylic that adheres wells with the rubber coat. His cane was sprayed Metallic Black and his trademark cane topper was sculpted and painted Chrome Silver. I painted his vest lapels to match the hat band. Both Shade figures received sunglasses made from floral wire and styrene.
I think this new figure is a Shade for all seasons and makes a great addition to a collection from my favorite comic story of all time!