Another crazy invention of the Golden Age of Batman included his friendship with Superman. The idea that Superman needed Batman and Robin is a crazy one and probably defines the logic of post-modernist comix authors, but there is great charm in seeing these guys get along. The relation between The Man of Tomorrow and The Dynamic Duo is no more evident than on the covers of WORLD'S FINEST.
WORLD' FINEST COMICS #34 (1949)
Each issue had a cover depicting another event that the World's Finest Heroes were engaged in, most of them a variant of Middle Americana. In 1949, that included Midget Racing.
The Kurtis Midget Racer is a milestone of the 20th Century racing. First outfitted with an Edelbrock V-8/60 Ford Flathead, the Midget tore the roof off of post-WWII racing.
If you want to learn how to race, you start with a gear box, an engine, and a tube frame. Holy be-jeezus, there ain't much between you and asphalt. Once you get the rhythm of the track, it's like nothing else.

A friend sent me this image, knowing of my fondness of Batmobilia. It just so happened that a new scale model kit of the Kurtis Midget Racer with the Edelbrock engine debuted at the same time. Such Kismet is undeniable and so off to the shop I went...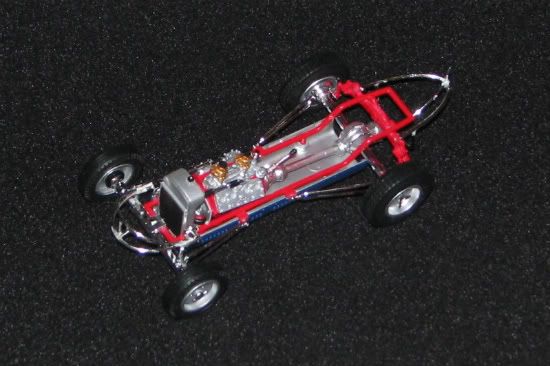 The 1949 Kurtis Racer, with V-8/60. Revell 1/25 (2011)
At 1/25 scale, I've never built something so fragile. The suspension and nerf bars could break if you held them too tightly. Or sneezed. The kit is beautiful and comes together like an intricate snowflake.
The next steps are to assemble the cockpit (with etched metal steering wheel and dash board) and get the two-tone paint scheme onto the rear cockpit.
The more I study the comic cover, I realize that everyone is likely driving the Offenhauser. Sigh. Perhaps the motivation to build one for Robin? Do we need Superman too?
Same Bat Time, Same Bat Channel...