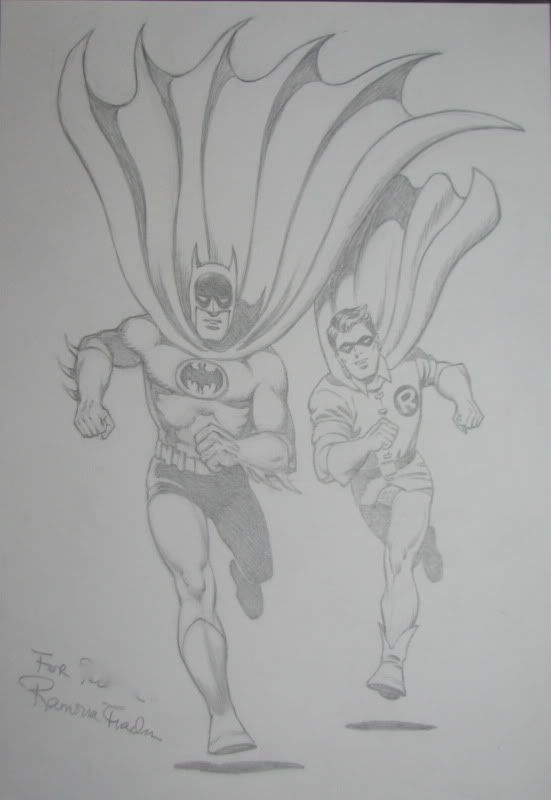 Ramona Fradon "BATMAN and ROBIN"



Ramona Fradon can draw the phonebook and I'm in love. Ramona, the illustrator of my childhood. Instead of testosterone-fueled musculature and adolescence-inspired cleavage, Ramona was an excellent storyteller with a minimum of lines. SUPERFRIENDS was a great comic to read as a kid, with tons of guest stars and villains. Her Dynamic Duo was what I had in my head growing up.

Every time I run into her I think of something new to get from her. Maybe Batgirl next time...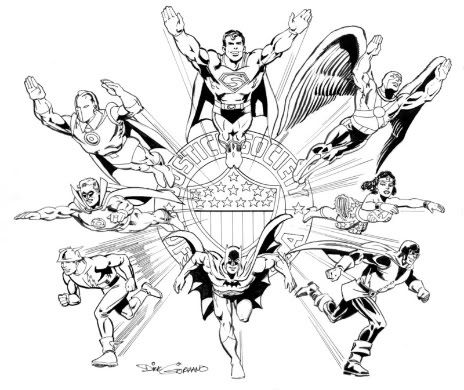 "The Justice Society" Dick Giordano
Dick Giordano was the unifying force of Batman in the Seventies, inking Jim Aparo, Neal Adams, and the other greats of the Bronze Age of comics. My favorite Treasury comic was a JUSTICE LEAGUE edition that my brother received, mostly because of the cool front/back cover design work by Dick. The back cover was the alternate universe team the "Justice Society", a collection of the Golden Age heroes (including a version of Batman) that started in 1939 and retired in the late Sixties or so. The Justice Society Batman supposedly never wore the yellow oval bat-insignia on his uniform. My brother and I each asked Mr. Giordano to re-create one of the covers.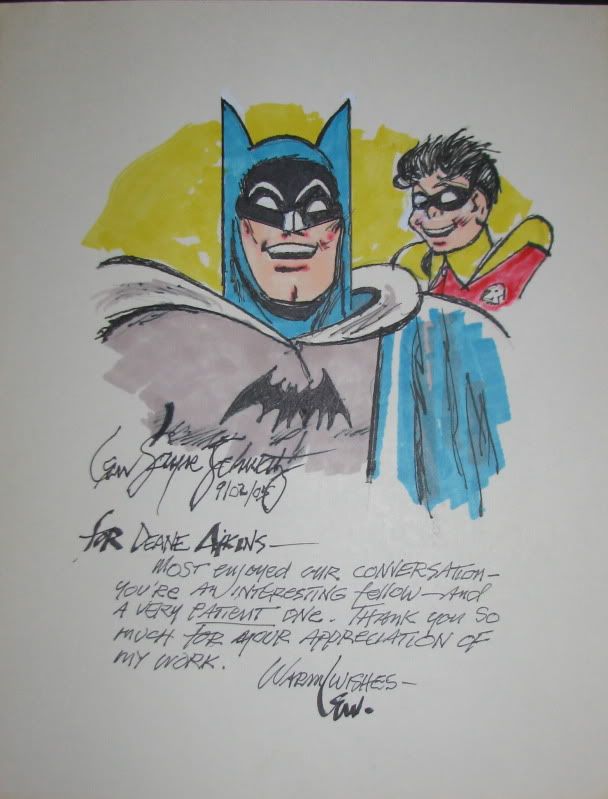 Lew Sayre Schwartz, Personal Correspondence
Definitely, as a kid of the Seventies, I read a ton of DC reprints. My favorite Bat-artist had to be none other than Lew Sayre Schwartz, who created The Red Hood and the Gorilla Crime Boss of Gotham, amongst other memorable stories. I think most fans agree that Dick Sprang was the best artist of the Golden Age of Batman, but Lew illustrated with a heavy brush, which added a comic strip quality to the work that was never duplicated.
Meeting Lew was a wonderful opportunity. Like many illustrators of his age, he served in World War II and was enthusiastic in talking about common interests. A recent collection of Batman comic covers had just been released and we flipped through it together and found all of the mis-credits. He is a cool cat, a bit of an ad man attitude about the whole thing.
I adore him.