Kevin Maguire (TV Batman & Catwoman)
Ahh, it is spring and all thoughts turn to Flying Batmobiles! In anticipation of some fun figure-making and Batmobile-tuning in the next month or so, I crack open the top shelf and dust off some fun art!
Kevin Maguire can draw the phone book and I show up, checkbook in hand. He was the reason I gave THE JUSTICE LEAGUE a try in the late Eighties, with the cover showing a team of heroes, standing there, looking up at you. All of those unique, wonderful, diverse facial expressions looking back at you. He is the master at communicating comic art through portraits.
When his art rep opened up a commission list, I jumped. It took him a long time to get to it, but it was well worth it. Kevin captured the essence of the 1966 TV show. You probably can't tell from the image, but
it's
pencil
. Is that a #2? I don't think so.
The work is crisp. The detail is amazing.
I don't always get to meet the artist, but I make it a point to thank them when I do. Needless to say, he remembered this one.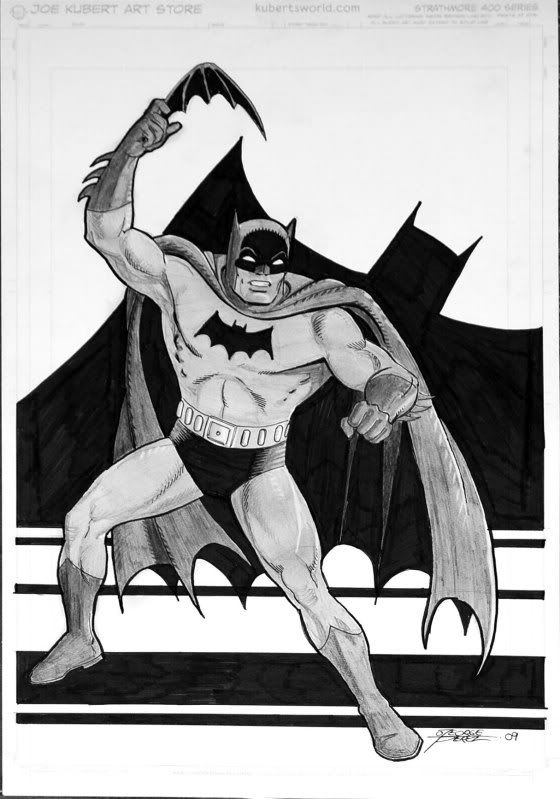 George Perez (Golden Age Batman)
Is there a comic fan alive who isn't familiar with George Perez? George Perez, the Grandfather of the Rapidiograph, drew my adolescence in multi-panel brilliance. His sense of arrangement and his commitment to detail and character is legend.
I grabbed a page of his JSA work, when the Golden Age Superman and Batman learn of the JSA's disbanding. I so adore his Sprang-esque take on the Golden Age Batman that I had to ask him to do it again.
Batman, as barrel-chested guardian of Gotham. This pen and ink included grey-tone washes for depth.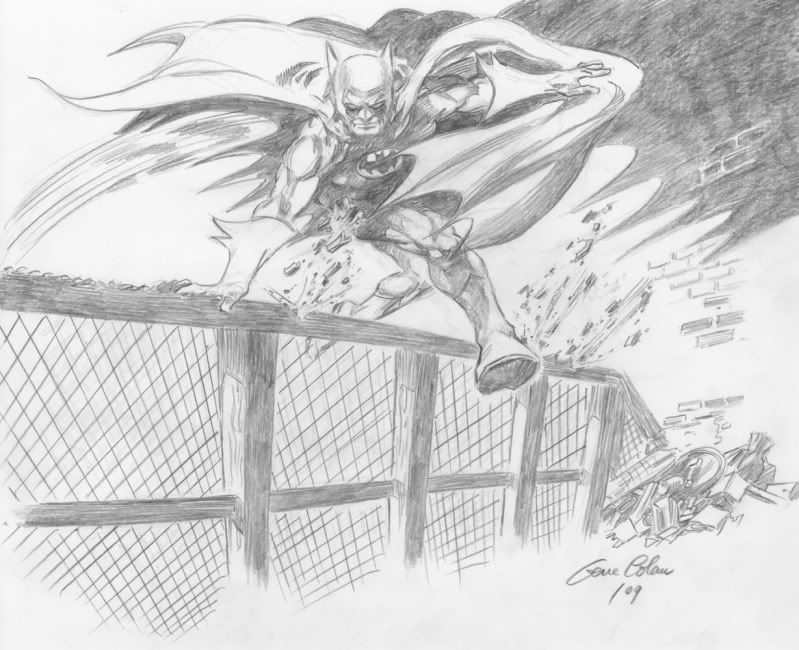 Gene Colan (BATMAN)
Finally, I include a true master: Gene "The Dean" Colan. I certainly associate Gene with MARVEL comics, mostly through the DareDevil reprints of my youth or his Captain America work. However, he was the Batman artist I loved the most in the monthly publications I read as a kid.
Of all American comic artists, I think Gene is singularly beyond us all with his abilities. That is, I don't think we have the technology to fully appreciate his ability with the pencil. Gene's pencil work has a depth and vibrancy that is removed when it's inked for publication. Simply put, I don't think we "get" the art that Gene sees in his mind's eye.
Gene was very ill right after he took this commission. I really thought he wasn't going to make it.
I rejoice that we still have The Dean in the world!