It's 1950 and the future is now!
In our last chapter, we saw how the Golden Age of superheroes shaped Batman's crime-fighting arsenal, as artist Jerry Robinson created the sleek sedan known as the Batmobile.
By 1949, Batman and his symbols were so established that it was time to upgrade. Batman as a dark avenger was gone. Batman and his ever-present partner Robin were about to enter the stream-lined world of law and order, battling crooks with a dizzying array of the latest in crime-fighting technology.
It's a good thing Dick Sprang was on the job.
"The Batmobile of 1950"
DETECTIVE COMICS #156 featured the Batmobile
itself,
as it's predecessor was destroyed by a mortar round. In contrast to the stalwart sedan of the Forties, the Batmobile of 1950 was laden with hi-tech gadgets, including no less than a fully-stocked criminology laboratory in the back of the car.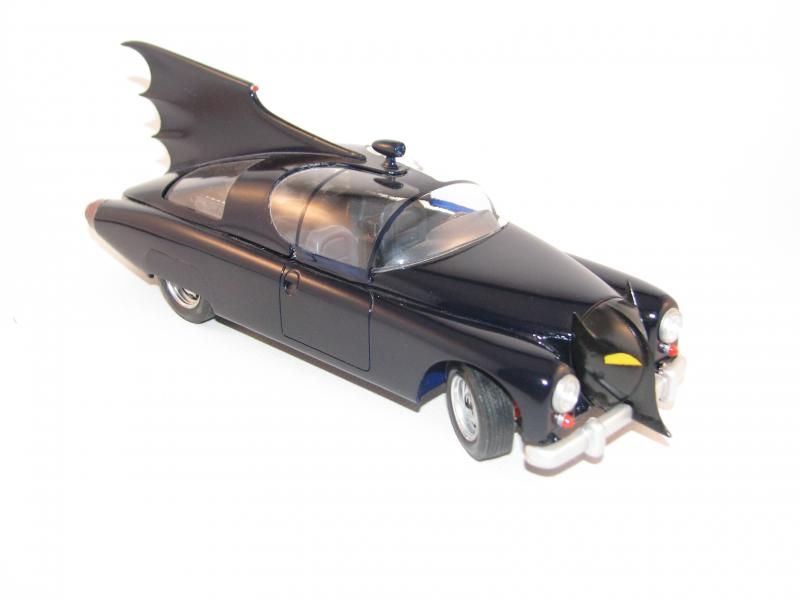 Batmobile of 1950 (Horizon Models)
Artist Dick Sprang clearly expanded on his ideas from his previous 1949 design: The separate fenders were replaced by a larger sedan. Instead of an amphibious car, the 1950 Batmobile was fitted with powerful rocket tubes and a portable Bat-signal. As Batman proudly exclaimed, "It's 10 years ahead of it's time!"
By 1955, Futurism was rampant in Batman stories. Stories with grotesque rogues were replaced by increasingly more fanciful adventure tales. Batman and Robin expanded their crime-fighting partnership to include Batwoman, Bat-girl, and Ace the Bat Hound. When they weren't busy using novel Batarangs or mulit-coloured Batsuits, a magical imp named Bat-Mite would show up, perhaps to play match-maker between Robin and Bat-girl.
An age of outer-space pursuits and Bat-Men of Zur-en-ahh and hallucinogenic apocalyptic sensory deprivation studies required two things: A new Bat artist. And a new Bat-mobile.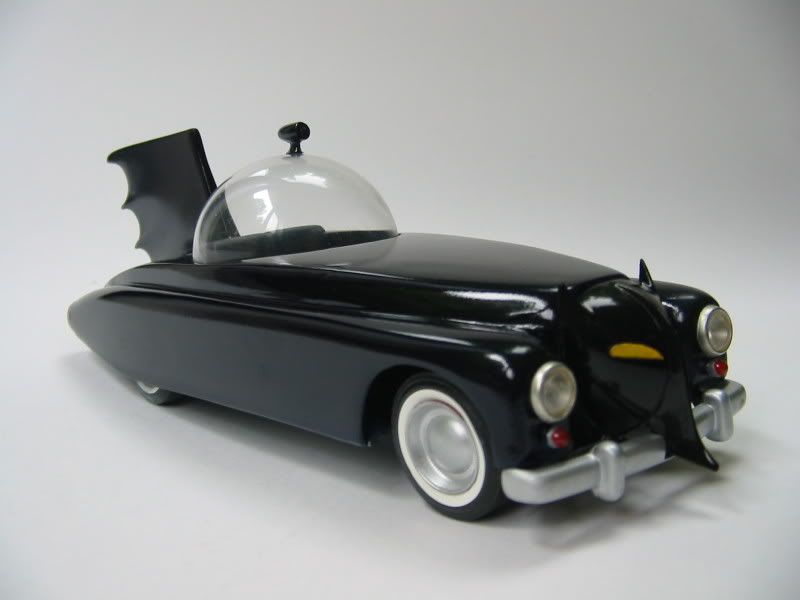 1955 Batmobile
Much has been said and even more speculated about the mercurial facts behind the true origins of the Bat-Man and exactly how much credit should be paid to Bob Kane, both in the writing and amount of art he actually contributed to the comic. It was evident that Kane used a studio to supply DC with Bat art, with Dick Sprang the clear talent of the lot. Sprang became so popular DC hired him on directly. Shelly Moldoff was another story.
Ghosting for Kane since early DETECTIVE COMICS issues, Shelly took a private "gentleman's agreement" with Kane to draw Batman "forever", which hit full stride in the mid-
Fifties. Shelly's boxy style took Dick Sprang's design to more exaggerated extremes- Batman's lantern jaw became more angular, his barrel chest more pronounced.
As of Detective Comics #223 (Sept, 1955), the Batmobile was affected as well. Gone were the sweeping lines of the Sprang Batmobile, replaced with a simplified bat fin.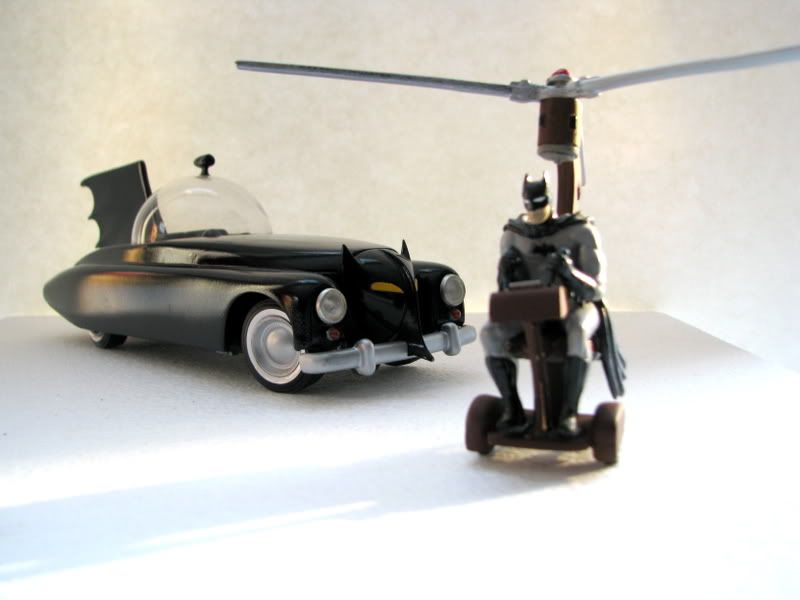 Meanwhile,
WORLD'S FINEST had been publishing new adventures of Superman and Batman, separately, since the Forties. By 1954, the two began appearing in the same story. This disparate pairing obviated the inherent genre and power differences of the two characters by heading even deeper into science fiction and super-heroics. Until the WORLD'S FINEST team-ups, Batman had only made a brief appearance with other superheroes, fighting alongside the Justice Society in the mid-Forties. Now, directly paired with Superman, Batman would have to rely more on his amazing intelligence and bat-equipment.
1958 Batmobile
While Shelly Moldoff and Lew Sayre Schwartz now held court in issues of DETECTIVE COMICS, Dick Sprang illustrated the Superman/Batman and Robin team-ups. For Batmobile aficionados, the artists were distinguishable from each other- Schwartz drew the Forties car, Shelly drew his "Bubble-mobile" and Mr. Sprang?
By the 1958 issues of WORLD'S FINEST, Dick was streamlining his 1950 design. Clearly influenced by the 1957 Chrysler 300C, he had decided on the next generation of Batmobile.
Gone were the rear windows, the fin gradually enlarged, and then the front end was re-surfaced:
The Batmobile that would end the Atomic Age was now established.
Dick Sprang's run in WORLD'S FINEST marked a momentous occasion: Disparate personalities had joined forces to forge the world's strongest friendship. Unfortunately, the cost of this union was at the expense of an ever-evolving readership, one that found such tales of amazing fiction to be out of place with their conceptions of The Caped Crusader. Science Fiction Batman would continue on for another 6 years, beset with a litany of repetitive scenarios that stretched beyond the limits of acceptability. Sales plummeted below tolerable levels. A Batman that faced down alien encounters in collaboration with mischievous imps and golden-clad female counterparts was a concept as out-dated as the hulking car he drove.
The Batmobiles of the Atomic Age
DC Comics had one last chance.
If Batman was to survive cancellation, he would need a bold New Look.
COMING SOON: Batmobile History IV: The New Look (1964-1969)