=sigh=

I love JONAH HEX. When I close my eyes, I see a Jordi Bernet vision of acrid gun smoke and foul death.


Seriously, this is the DC Universe comic that I run to the store every month to get. I swear by it to anyone who can tolerate me suggesting comix that they haven't tried. Gill got this lovely piece from Bernet and it is now sadly lost in the international post.
JONAH HEX will be ending this August. In it's place will be the all new ALL STAR WESTERN:
"Even when Gotham City was just a one-horse town, crime was rampant – and things only get worse when bounty hunter Jonah Hex comes to town. Can Amadeus Arkham, a pioneer in criminal psychology, enlist Hex's special brand of justice to help the Gotham Police Department track down a vicious serial killer? Featuring back-up stories starring DC's other western heroes, ALL-STAR WESTERN #1 will be written by the fan-favorite Jonah Hex team of Justin Gray and Jimmy Palmiotti and illustrated by Moritat."

Shoot me now...
I know, I can't complain. JONAH HEX doesn't sell. I think Jordi Bernet is a living genius and most Americans have no idea how to even pronounce his name, let alone who he is. The fact that DC kept JONAH HEX going for 70 issues is due to the grace of Dan DiDio. I appreciate that there will be more Jonah after August, but jeez, owlhoot- Jonah sure never traveled so far Nor' East.
As far as back-ups, Palmiotti and Grey have written outstanding pieces about El Diablo, Bat Lash, and a bunch of cool DC Western characters. I love 'em all, but Hex is best.
I'm mostly miffed about Bernet. I love the rotating artists that have graced JONAH HEX, but Bernet's work is what I see in my mind's eye.
The artist known as "Moritat" is excellent. I urge you to check out his SPIRIT work. "Moritat" strikes me as an interesting cat because I know A) "Moritat" is not his name B) He served in Viet Nam and C) his artwork is beautiful. That's about it.
I miss Bernet already.
I don't know if even Darwyn Cooke VIGILANTE art will cheer me up...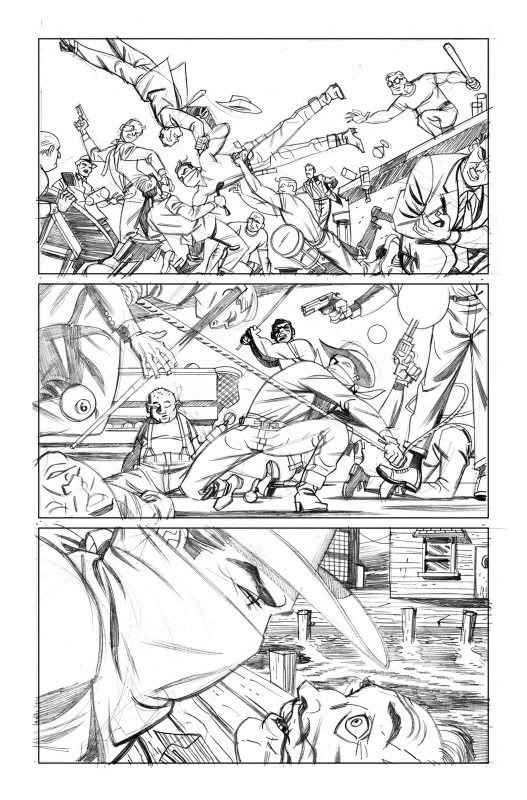 Cowboy Sunrise!