In sad news, the man who drew my childhood favorite issues of BATMAN has passed away.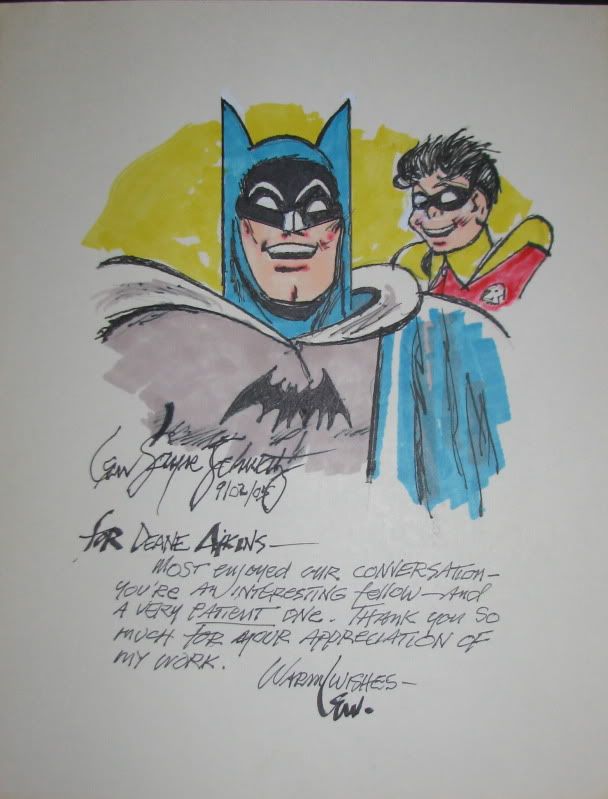 I had the great pleasure of spending a fall Manhattan afternoon with Lew Sayre Schwartz in 2005. It was nothing short of a dream come true- I adored his 1981 documentary on Milton Caniff, he did a cool edition of MOBY DICK, and he tolerated Bob Kane.
Lew was jovial and we had a great conversation about Caniff, the military, and of course Batman. We thumbed through a hard cover collection of BATMAN comics and pointed out several pieces of his work which were mis-attributed to other artists, which made him laugh.
Mike Mignola's cover to Batman #700, featuring DC's most recent L'enfant terrible, The Red Hood, is a loving tribute to Lew's original cover to DETECTIVE COMICS #168. With all respect, Lew may not have done the more graphically sophisticated job of the two, but he did the one that drew in children. Different jobs for different times.
What drew me to Lew's artwork as a child was his brush- his people are full of distinct character. The Catwoman he portrayed was dangerous ( an interesting move away from Catwoman as a potential Batman love interest or reform-advocate), his Joker was expressive, and his henchmen were distinct. In what could have been a boxy spoof, Lew illustrated the "The Gorilla Crime Boss of Gotham City" with panache and lush ink. I was a lad in Detroit with piles of BATMAN reprints and I was hooked.
I am so grateful I had the chance to meet with you and learn from you. You mixed grace and affection and talent.
Good night.