I love the new animated BATMAN: THE BRAVE & THE BOLD show. It mixes decades of Batman comics, from the absurd to the intense, into 30 minutes of pure Bat fun.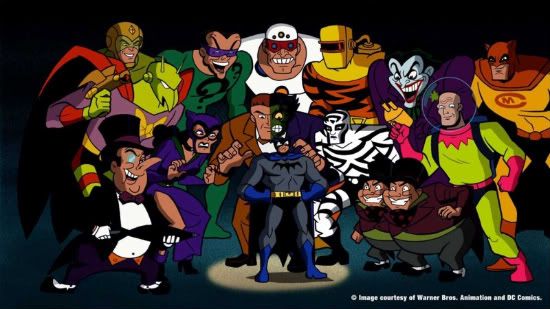 Ah, if only the toys didn't suck.
Granted, there are some people who think toys should be for
playing
. By
children
. These "some people" happen to be toy company execs and they figures said children would probably want to play with toys from this show, so "some people" decided to make the toys "playable".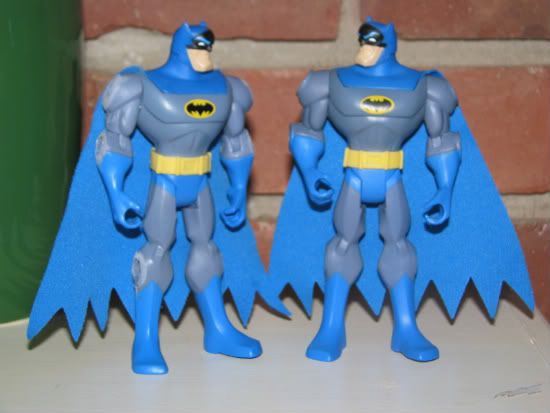 "Playable" meant that each figure was based on a stock body that had octogonal plugs in the legs and arms to allow various toy accessories to added for "play value".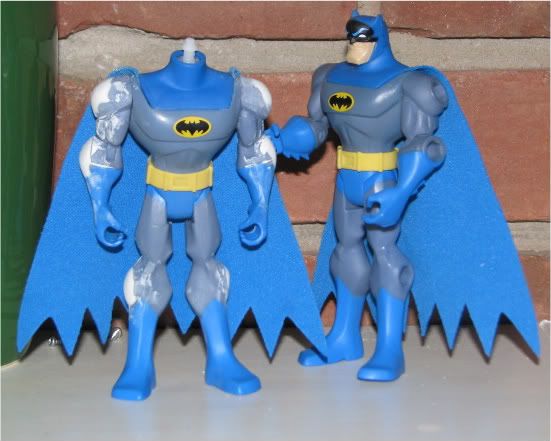 Sure, my kid can "play" with Batman. But what about Batman's visual aesthetic? Isn't a crappy looking Batman figure hurting my kid's chances at an Ivy League education? Doesn't corporate America
care
about my child?
This is where WHEN BATMOBILES FLY comes to the rescue: Saving children from childish things.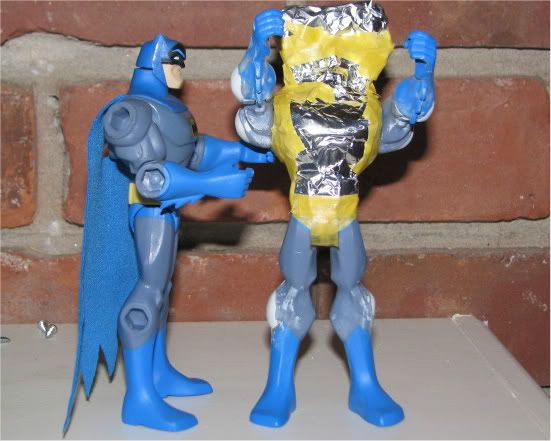 Yes, children like playing with their toys. Yes, children like beating the living crap out of their action men. Yes, children do not understand what is good sculpting and anatomy and that is why these toys are rotting the hearts and minds of our children.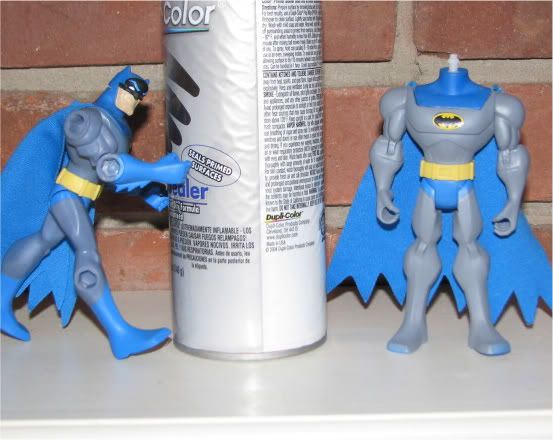 Thankfully, we here at WHEN BATMOBILES FLY understand that
children
don't buy children's toys.
Grown men,
with an empty void inside them, buy children's toys. These Grown Men need toys that
look good on the shelf.
The show brilliantly re-invented Aquaman, who has to be one of the most boring characters of all times, and made him a bombastic adventurer with a heart of gold (fish).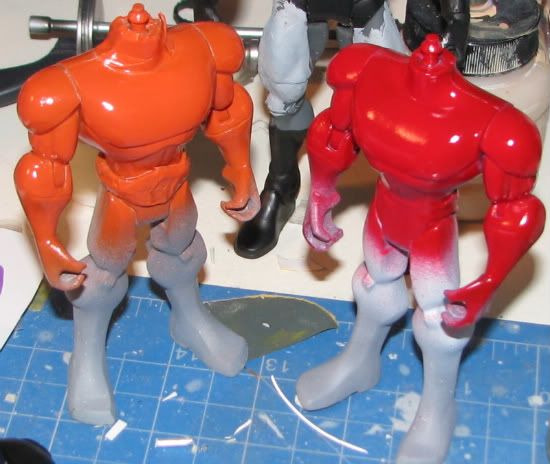 Additionally, to address the issue of "& Robin The Boy Wonder", the writers borrowed from a 70's story which depicted a Robin who had grown up, moved on, and made a costume that included pants.
This adult Robin, designed by Neal Adams (him again), is gaudy and ridiculous, and 1000 times better than contemporary comics which had The Boy Wonder grow up to become a moody Batman knock-off.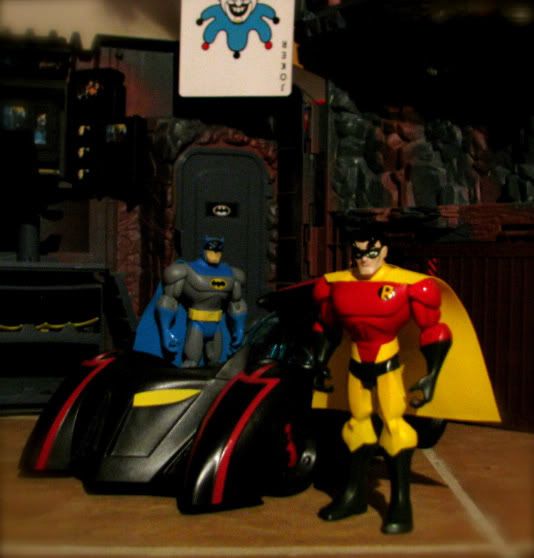 It also just so happens that my complete run of BATMAN THE BRAVE & THE BOLD comics has to be one of my most favorite. Every month, Batman teamed up with another hero to solve some world crisis, or a street crime. The show borrows from the comic by selecting some of the guest heroes who made frequent appearances, and in a similar manner avoids team ups with the bigger DC heroes, such as Superman and The Flash.
It's just that the toys suck.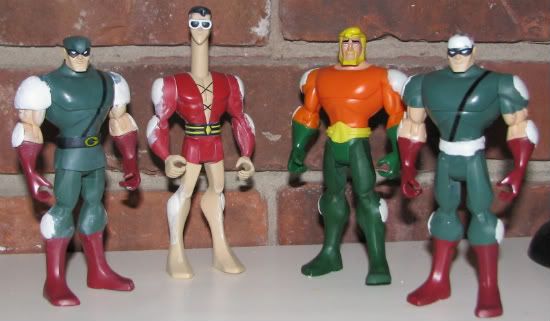 One of the shows best decisions was to be more inclusive of Plastic Man into the Dark Knight's world. Plastic Man never quite made it in the DC comics, most likely due to the lack of imaginative writing. In the show, he's every bit as unpredictable and fun as he was when written and drawn by his creator Jack Cole.
He just needed a better action figure.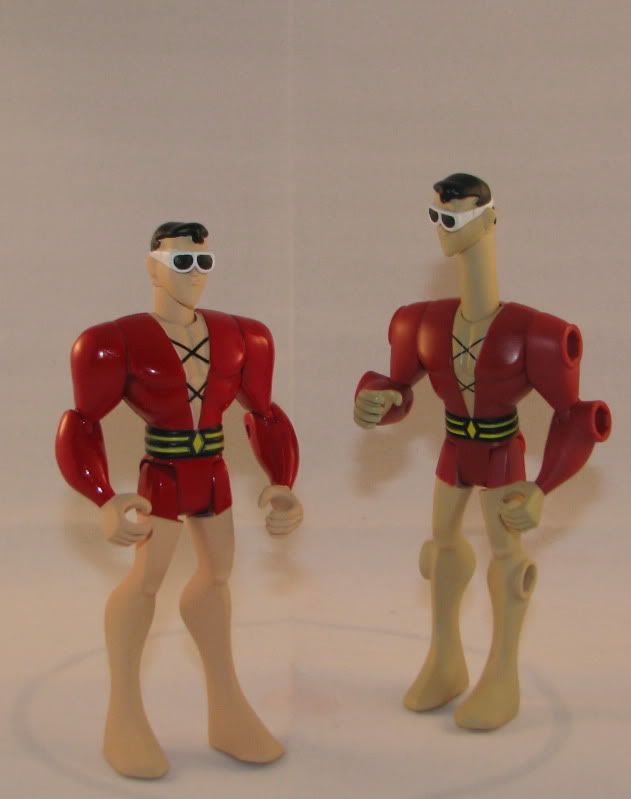 The toy line is now all but dead, as is the show. I've decided that the figures represent the best possible medium to enjoy an expanded Batman collection: they're small, affordable, and easy to work with.
70 years of Bat fun awaits.
Get ready, get set,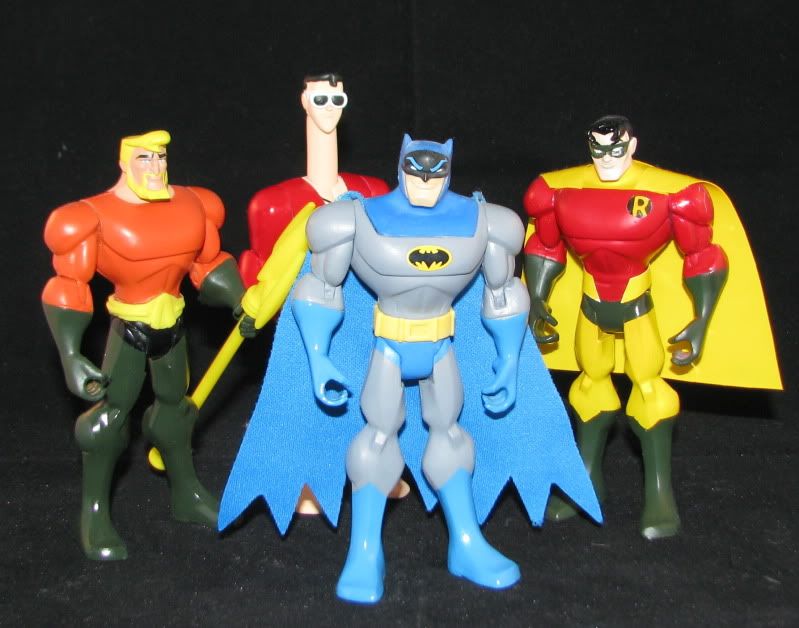 Batusi.