I'm a big fan of goofy Batman.
Batman as a gorilla, Batman in Scotland, Batman as a zebra. Bat
man
, Bat
woman
, Bat-girl, Batman's dad in a Bat-suit, Bat
hound
. Flying Bat Cave, Bat
Mite.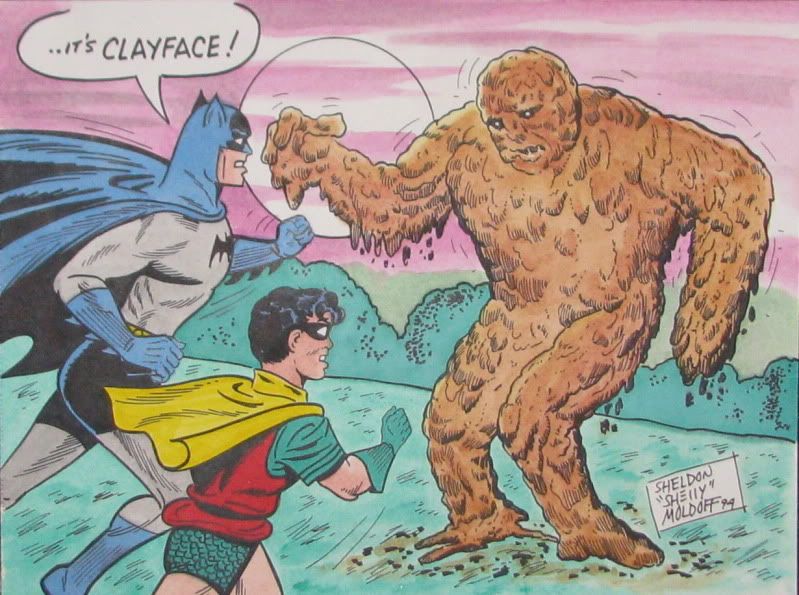 Shelly Moldoff ("It's Clayface!")
Shelly Moldoff.
Shelly Moldoff is the admonition of Batman. An entire career spent in the service of Bob Kane's narcissism, Shelly drew a significant portion of Batman-related comic publications for years without credit or a contract. Unlike other comic creators, who employed a studio of artists to accomplish the required about of artwork on a daily and monthly need, Kane hired people out of pocket while taking full credit as the sole creator and artist of Batman-related material. By some reports, Shelly "ghosted" for Kane as early as the first year of publication. By the time The Powers To Be created the "Bat-Family" era of comics, Shelly was the primary artist. When the "New Look" era ended and Bob Kane was removed from all input at DC, Shelly's livelihood vanished.
Jim Mooney (Batman and Robin)
Jim Mooney faired far better. Jim worked on Batman in the Forties and became the artist for the Robin feature in STAR-SPANGLED COMICS. He then became a regular Supergirl artist and did many of the Legion of Superhero appearances.
Jim's Batman and Robin is one of my favorites from the 1940's. He distilled Bob Kane and Jerry Robinson's work into a perfect amount of action and detail. Jim did Batman and Robin as "super-citizen", The Batman and Robin who were duly-deputized servants of public well being.
For all of the contemporary recollections of comics of the Forties as grim, Batman and Robin smiled
a lot...
Tom Mandrake (Batman)
Tom Mandrake was the counterpoint to Gene Colan's Batman artwork in the Eighties. Tom wields a thick brush, which I never thought the printing process could reproduce just right. The amazing surprise of his art is his pencil work, which shows an amazing amount of
grace
.
This, from the guy who likes to draw zombies.
I loved his SPECTRE work, probably the best version ever published.
His Batman is equally scary.