Stephen DeStefano (ZING!)
Stephen DeStefano represents the storyboard artist at his best- a guy who can belt out perfect lines and make it look soooo easy. He did MAZING MAN for DC and some fun stuff with My Hero: Bat-Mite.
The Zen of Bat-Mite is simple: Pure hero worship that makes fan-boys seem subtle.
This illustration could be a 5th Dimensional smack down, or the latest DC NATION panel at COMICON.
You be the judge.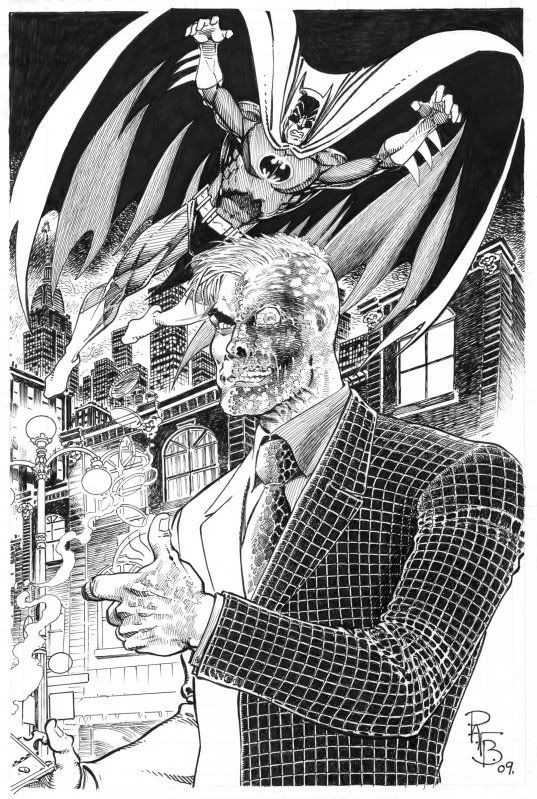 Pat Broderick (Batman & Two-Face)
Pat Broderick had the tough act to follow Michael Golden on my childhood worship of MICRONAUTS comix, but he also gave us the introduction of one Timothy Drake, Esq. into the world of Batman. I always dug his classic Batman and Two-Face.
Pat went all-out on this commission and delivered the amazing amount of ink-work that you see before you. Has digital colouring screwed us out of a black and white world? Is texture now an option on a paint software?
Not in this man's Gotham.
And of course, the man who united the New Look for Batman: Joe Giella. I would give my Adam West cowl to have been a Bat-Radio Tracer on the wall when DC gave Bob Kane the news that "he" would no longer be needed to create all the Batman comics for DC. Some cite low sales (which I don't believe), some imply a leveraged buy-out of the "Kane Ghost Shop", no matter who you believe, suddenly Mr. Kane was no longer "drawing" monthly issues of BATMAN and DETECTIVE COMICS, allowing Julius Schwartz and artist-EIC Carmine Infantino to give Batman a much needed make over. The deal was that artist Joe Giella would be retained to ink/finish all the books, to give them a "coherent look".
Joe Giella (1964 Batmobile)

Now, anyone who thought the Moldoff/Giella and the Infantino/Giella books had a "coherent look" were probably blind, but Joe did it all. Infantino takes credit for designing the New Look Batmobile and I'm willing to believe it, but it first appeared under the pencil and brush of Team Moldoff/Giella.
Whoever thought Batman and Robin would strike terror into the hearts of criminals by driving a Spyder?