Scott Mills (TV Batman)
Sometimes, it's fun to get a fresh perspective on Bat things. Indie artist Scott Mills grabbed me with his TRENCHES book, a story about WWI, and then entertained me with his SEAMONSTERS & SUPERHEROES. He did a bunch of little 3 x 3 colour illustrations for me and I included a request for TV's Batman.
I like how Scott reduced Adam West's appearance to this perfect line art. You know it's Batman, you know it's Adam West, and you know it's fun.
I use to see his commissions of 70's comics and I love his appreciation of Bronze Age stuff.
His aim is true!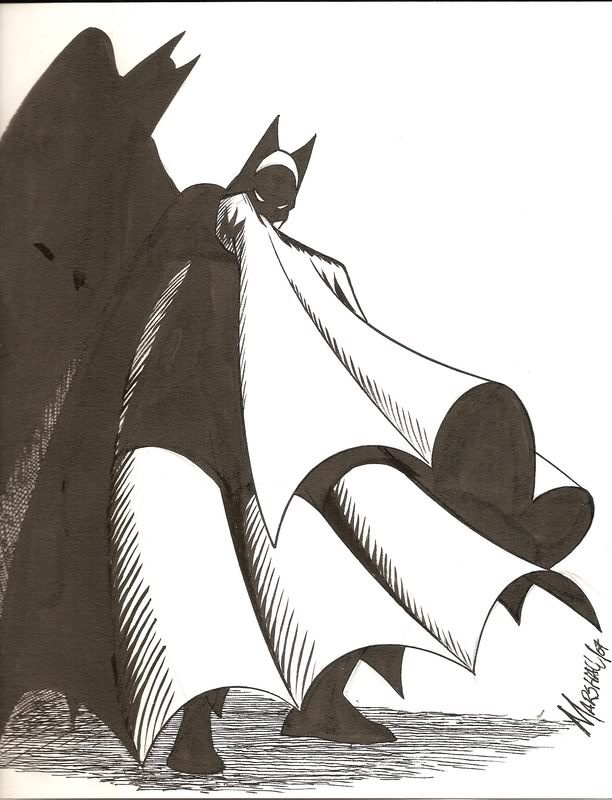 Marshall Rogers (Batman)
C'mon, you totally dug BATMAN in the Seventies when Steve Englehart, Marshall Rogers, and Terry Austin tore off and created a string of issues that have reprinted a bat-bunch of times. Englehart wrote great stuff- he revisited classic villains such as Joker and Penguin, introduced Clayface III, and made Hugo Strange awesome. Best of all, Silver St. Cloud was a Bruce Wayne flame of value- perhaps the best?
The art team of Rogers and Austin brought a panache and layout that hadn't been seen before. The world was still shaking over Neal Adams' romantic style of Dark Knight and Rogers/ Austin introduced a cartoon illustration style that retained all the "dark" atmosphere.
The bottom line? Comics could be comics and still work.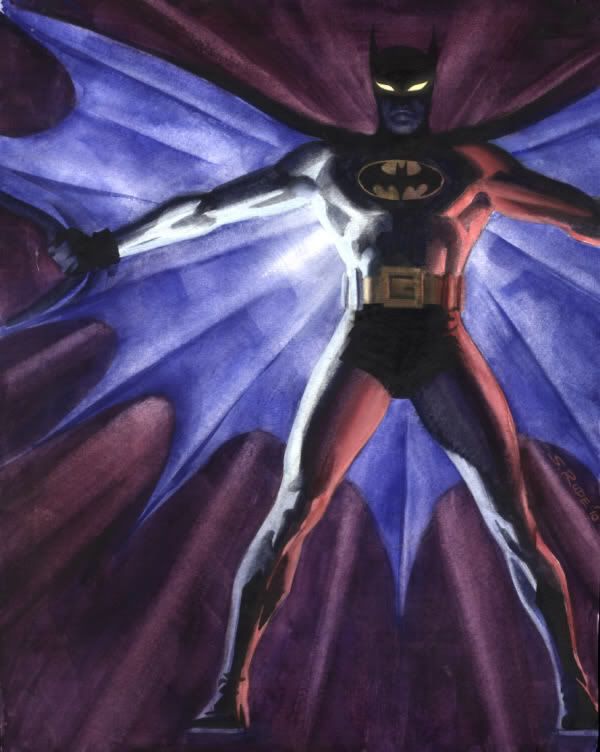 Steve Rude (Batman)
Steve Rude has got to be a man out of time. He co-created NEXUS, one of the most recognized indie comics of all time, and is the love child of Jack Kirby and Homer Winslow. He digs superhero comics, but of 1966. You can find "The Dude" on line pumping out commission after commission of Stan and Jack's best creations.
I loved his WORLD'S FINEST, a Superman & Batman story written by Dave Gibbons. It has every beat right. Luthor and Joker are pitch-perfect. Superman and Batman's relationship is varied, and the art is gorgeous.
What I find interesting is Steve's expressed desire to NOT draw Batman (or Robin or Green Lantern, it seems). I have always wanted a commission from The Dude and he posted an art sale on his site. Despite the statement regarding the Dark Knight, I asked if he would reconsider. He did and I think the piece is breath taking. The colours are perfect.
Sure enough, it became the cover to his sketch book and his calendar.
Batman sells, baby.