After Pops rendered his front end of the Bat Mite, I went to work getting the body shell completed. First up was getting the number done. I took my best guess on the font and created the decal using Word and custom decal paper. To make life easy on myself, I coloured the inside of the "0" using the computer.
Next up was the bat head on the front grille. After getting the two-tone colours finished, it was easy to tape up the bat head. It turned out rounder than I had imagined, given the curve of the front end, but it looked great. We hadn't considered the "V" shaped front bars, but it still looks like a Batmobile!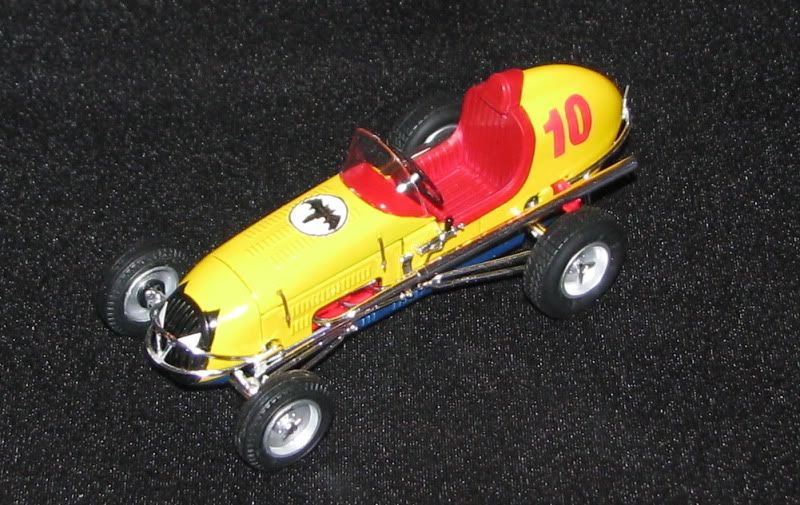 The Bat Mite
The biggest challenge was the bat symbol. I computer generated a white circle with black border and then attached the custom decal. Using a PITT pen, I carefully inked in the bat symbol. The hood vents didn't make this easy, but I think it worked.
It's remarkable how little car is around the driver. You were really exposed when throwing one of these around a dirt track!
Finally, the kit came with a trailer and I couldn't resist doing it up in the midnight blue I use for my Golden Age Batmobiles. I had created a car based on Dick Sprang's work from 1949 and it matches the timeline of this Kurtis Midget perfectly! A nice use of blue and yellow throughout both cars!
Can't you just see Batman pulling up to the track on a Saturday night?
Now, do I make one for The Boy Wonder....